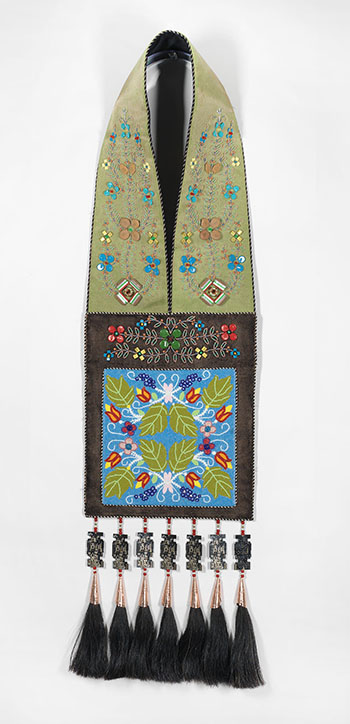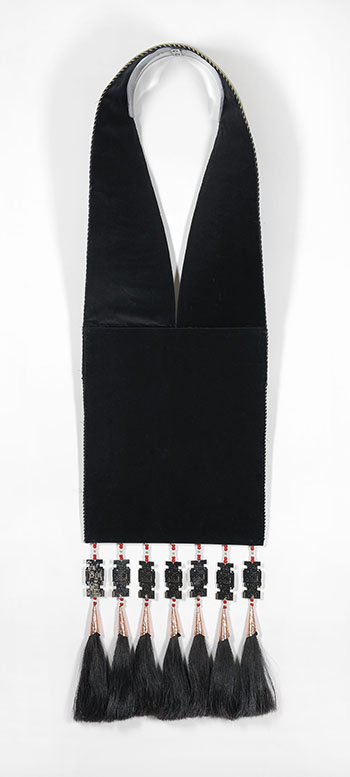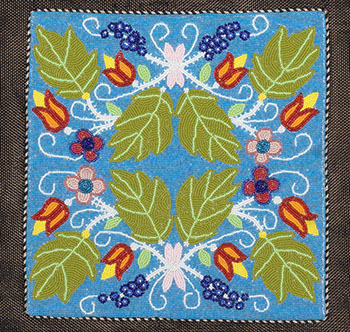 Inventory # G-E18506-002

Barry Ace
1958 - Canadian

Bandolier for Water and Plant Life
mixed media 2019
52 x 14 1/2 x 7 in 132.1 x 36.8 x 17.8cm

Provenance:
Collection of Artist

Literature:
Lori Beavis and Amy Prouty, mazinigwaaso / to bead something, Barry Ace: Bandolier Bags as Cultural Conduit, Concordia University, 2019, reproduced front cover

Exhibited:
Faculty of Fine Arts Gallery, Concordia University, Montreal, mazinigwaaso / to bead something: Barry Ace: Bandolier Bags as Cultural Conduit, Solo Exhibtion, Montreal, November 4 – December 13, 2019

The complete medium:

Velvet fabric, bronze screen, archival paper, metal, digital screen, synthetic bias edging, coroplast, calico fabric, cotton and polyester thread, copper jingles, white heart beads, glass beads, raw canvas, capacitors, resistors, light-emitting diodes, inductors, coated wire and synthetic sinew.

Barry Ace is an Anishinaabe (Odawa) multi-media artist based in Ottawa. He is a band member of the M'Chigeeng First Nation, Odawa Mnis (Manitoulin Island). Known for his mixed media paintings and assemblage textile works, Ace explores his cultural past in contemporary visual language.

Cross-shoulder bandolier bags such as this are associated with the Anishinaabeg of the Great Lakes region. Originally these bags were decorated in quillwork, but later, as they traded with European settlers, artists used glass beads, applied in floral forms and geometric patterns that radiated the spiritual energy of Anishinaabeg culture. Ace's use of multi-media in this work is rich, creating a rich melange of effects, using a wide range of man-made materials. Ace takes the bags into another dimension by using small, colourful salvaged electronic components and circuitry – the building blocks of our technological devices. Works such as these fuse the past, present and future, and just as his ancestors did, Ace is using the materials available in his time.

The title communicates Ace's awareness of and concerns for the environment, and focuses attention on issues pertaining to water and the ecology of the Great Lakes. This bandolier is a continuation of his bandolier series that honours and pays homage to the sacredness of the Great Lakes, and it is unique, in that Ace has replaced his signature digital tablets with a fully beaded front piece.

The bandolier bag series, which originated in 2011, is ongoing.



Please click here for the French version of this text.


| | | |
| --- | --- | --- |
| Price: | $35,000 CAD | |
All prices are in Canadian Dollars.
Although great care has been taken to ensure the accuracy of the information posted, errors and omissions may occur. All bids are subject to our Terms and Conditions of Business.