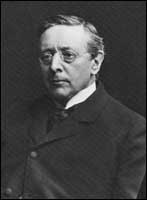 Frederic Marlett Bell-Smith

1846 - 1923
OSA RCA SCA

Frederic Marlett Bell-Smith was a well-known painter who worked with watercolours and oils, painting mountain landscapes and street scenes. Although recognized primarily as an artist, he was also an accomplished teacher, photographer, actor, raconteur and writer.

Bell-Smith was born in London, England in 1846. He trained in the South Kensington School of Art, and with his father, who was a portrait and miniature painter. In 1967, he immigrated to Montreal, where he worked at the photographic studio of James Inglis. While there, he became a founding member of the Society of Canadian Artists. In 1871 Bell-Smith married and relocated to Hamilton, Ontario, where he worked at another photographer's studio. The couple went back and forth from Hamilton to Toronto so that Bell-Smith could teach at the Ontario School of Art, while at the same time continuing his job and practicing freelance illustration.

In 1881 he moved to London, Ontario, to become director of fine arts at Alma College in St. Thomas. He also made a trip to Paris where he briefly studied at the Académie Colarossi, then returned to Canada, committed to painting in oil. In 1886 he was elected to the Royal Canadian Academy of the Arts.

In 1888, Bell-Smith moved to Toronto, and was appointed principal of the Toronto Art School. He became a member of the Ontario Society of Artists and was an associate member of the Royal Canadian Academy at its formation. During the 1890s he traveled to Britain, Paris, and the eastern United States. During his 1895 trip to Britain, he painted portraits of Queen Victoria, one of which is in the collection of the National Gallery.

In 1885 Canadian Pacific Railway's new line to Canada's west coast was completed, and in 1887, Bell-Smith was given a travel pass by the railway's president William Van Horne so that he could paint the stunning scenery along the way. This was a pivotal time for Bell-Smith, for as he stated, "One of the dreams of my early manhood was to visit and paint the Rockies, about whose magnificence all travellers raved." Bell-Smith made numerous trips to the Rockies - in 1888, 1889, 1898, 1899, 1900, 1910 and in 1914 (on the northern route to Yellowhead), and for the last time, in 1918. He reached the West Coast on his 1900 and 1918 trips. Bell-Smith became renowned for the exceptional body of work in watercolour and oil that he produced based on the mountains and coast.