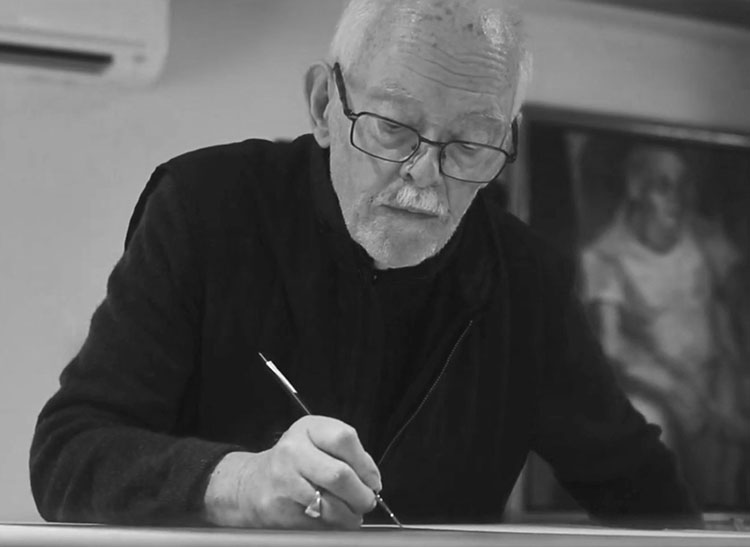 David Lloyd Blackwood

1941 -
CPE CSGA CSPWC OSA RCA

David Blackwood was born in 1941 in the outport community of Wesleyville, Newfoundland to a seafaring family in which his father and grandfather were both ship captains. Fishing was a way of life in Newfoundland and Blackwood's choice to become an artist was an unusual one in his small town. However, the community was very supportive of him; one of his elementary school teachers purchased a small paint set for the young Blackwood and told him "don't give up your painting!"

Blackwood studied at the Ontario College of Art from 1959 to 1963, and his teachers included J.W.G. Macdonald and Carl Schaefer. It was here that he learned the print-making techniques and processes he has used throughout his career. It was also here that he decided to make art about his heritage - the stories of Newfoundland. His chronicles of the sea, the land, and the life of the people there, expressed through his etchings and paintings, are extraordinary. At 23 years old one of his etchings was purchased by the National Gallery of Canada. In 2000, 36 years later, the Art Gallery of Ontario created the Blackwood Research Centre and acquired a major collection of his prints. Also an educator, he taught at Trinity College School from 1963 to 1988.

Blackwood has had over 90 solo exhibitions, including a major retrospective at the Art Gallery of Ontario in 2011: Black Ice: David Blackwood, Prints of Newfoundland. His work is in the collections of the Art Gallery of Ontario, the National Gallery of Canada and the Vancouver Art Gallery, as well as in major private and public collections around the world, including the collection of Her Majesty Queen Elizabeth II (The Royal Collection, Windsor Castle) and the Uffizi Gallery in Florence, Italy. In 1976, the National Film Board produced a documentary film on him, which was nominated for an Academy Award.

Blackwood received the Order of Canada in 1993, and in 2003 was named Honorary Chairman of the Art Gallery of Ontario, the first practicing artist to be so honoured. Blackwood currently resides in Port Hope, Ontario, as well as maintaining a studio in Wesleyville.