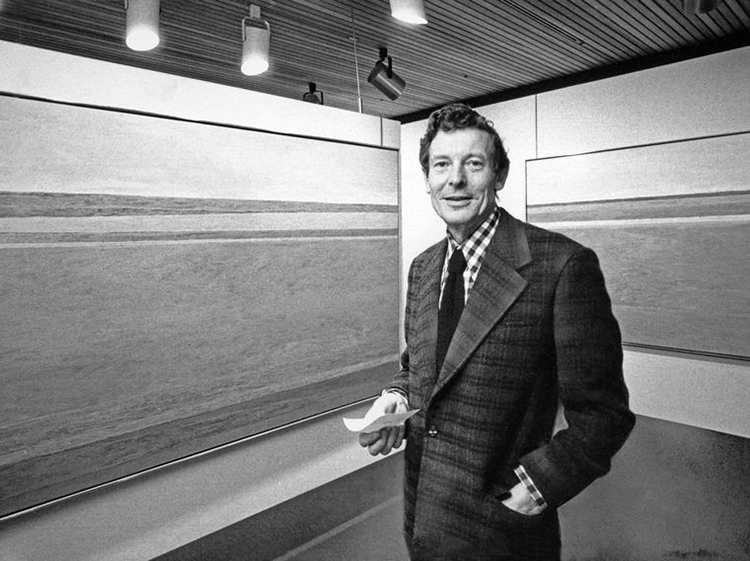 Gordon Appelbe Smith

1919 - 2020
BCSFA CGP CPE OC RCA

"My feelings and themes are largely derived from nature, the sea, rocks, trees; the things I live with…Painting should be a re-creation of an experience rather than an illustration of an experience" Gordon Smith

Gordon Smith was born in England, and emigrated to Canada in 1933, settling in Winnipeg, where he took classes at the Winnipeg School of Art. Having joined the army in 1940, he fought in World War II, but injuries brought him back to Canada, and he arrived in Vancouver in 1944. Recognition for Smith's work came early in his long and illustrious career - he had his first one-man exhibition in the Vancouver Art Gallery in spring of that year, showing work done overseas.
In 1945 Smith continued his studies at the Vancouver School of Art with teachers B.C. Binning and Jack Shadbolt, who were critical to his development. After graduating in 1946, he began a distinguished teaching career that included the Vancouver School of Art, the Education Department of the University of BC from 1956 to 1982, and the Banff Centre School of Fine Arts. Smith had his second one-man show in 1947 at the Vancouver Art Gallery. In this same year he traveled to Alert Bay, and produced totem and landscape works.
An artistic turning point came in 1951, when Smith traveled to San Francisco to attend the California School of Fine Art, and saw work which expanded his artistic horizons by artists such as Elmer Bischoff, Clyfford Still and Richard Diebenkorn. Smith now became aware of the qualities of paint itself on the canvas. On return to Vancouver, Smith was working with a new vocabulary of modernism, and his landscape works were evolving towards abstraction. In 1955, Smith emerged on the national scene when he won a purchase prize at the First Biennial of Canadian Painting at the National Gallery of Canada. He joined the Canadian Group of Painters in 1956, contributing to their shows regularly, and was appointed president in 1957. Smith attended Harvard University in the summer of 1957, taking art history, and in this same year, another one-man show of his work was held at the Vancouver Art Gallery.
Smith attained international exposure in 1960 when he represented Canada at the Sao Paulo Bienal. Also in 1960, a Canada Council scholarship enabled him to travel to New York, Europe and England. Back in Vancouver, he had his first commercial show in 1961 at the New Design Gallery. In the late 1960s, Smith was searching for a new direction - delving more deeply into abstraction, he produced hard-edge paintings. A 1966 survey show at the University of BC Fine Arts Gallery further acknowledged his importance in his own city.
In the 1970s, Smith contributed to the Arthur Erickson-designed Canadian pavilion at Expo '70 in Osaka. His work shifted away from hard-edge abstraction and returned to landscape, but informed by the colour and structural discoveries he had made. In 1976 he had another retrospective at the Vancouver Art Gallery, and a 1978 visit to Egypt brought a warm colour palette into his work for a time.
Smith retired from teaching in 1982 to devote more time to painting. His visit to the Queen Charlotte Islands in 1984 brought a change to a darker, cooler colour palette and a gestural brush-stroke in paintings of abstracted rock faces, forests and waterfalls. This new work was shown at the Vancouver Art Gallery in 1987.
In the 1990s, Smith painted a series based on observations of graffiti in the subways of London, and a series of "black" paintings referring to his war experiences. Landscape returned after a visit to Monet's home in Giverny, France in 1995, which inspired a long series of forest pool paintings. The Vancouver Art Gallery mounted another retrospective in 1997.
One of Canada's most important painters, Smith continues to live and work in Vancouver, producing abstracted landscapes. His work has been an evolving search for balance between abstraction and his love of the land, which has given us insight into both the act of painting and the essence of the West Coast. He has been honoured with the Order of Canada, the Order of British Columbia and the Governor General's Award for Visual Art.