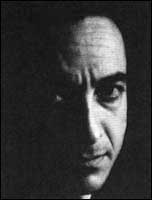 Antony (Tony) Scherman

1950 -

Born in Toronto in 1950, Tony Scherman moved to Paris with his family in 1955, remaining there until age 9. He attended the Byam Shaw School of Art in London from 1968 to 1971 and received his M.A. from London's Royal College of Art in 1974. During his teenage years, his father, a professional violinist, did studio recordings with the Beatles, Rod Stewart and the Rolling Stones, among others. Scherman met his wife, fellow artist Margaret Priest, at the Royal College of Art and they moved back to Toronto in 1976.
Scherman works exclusively in encaustic, an ancient and challenging technique that involves combining melted wax with pigments. Encaustic brings an instant patina of age to Scherman's canvases - and he applies it in translucent layers, resulting in light-filled surfaces rich with texture. Another feature of his work is the large-scale format and close cropping of his figurative subjects, which range from still lifes to historical figures such as Robespierre and Napoleon to animals and portraits of well known actors. Frequently he deliberately leaves his backgrounds abstracted and simple, compeling the viewer to interact with the subject of the work. Although thoroughly contemporary, his work is steeped in European tradition, from artists Rembrandt and Franz Hals to more recent painters such as Thomas Eakins and Lucian Freud.
Scherman has exhibited in solo and group shows in North America and Europe and has been a visiting critic and lecturer at universities, art colleges and galleries around the world. His work can be found in the collections of the Art Gallery of Ontario, The Montreal Museum of Fine Art, the Glenbow Museum, the Los Angeles County Museum and the Museum of Contemporary Art, La Jolla, among others.