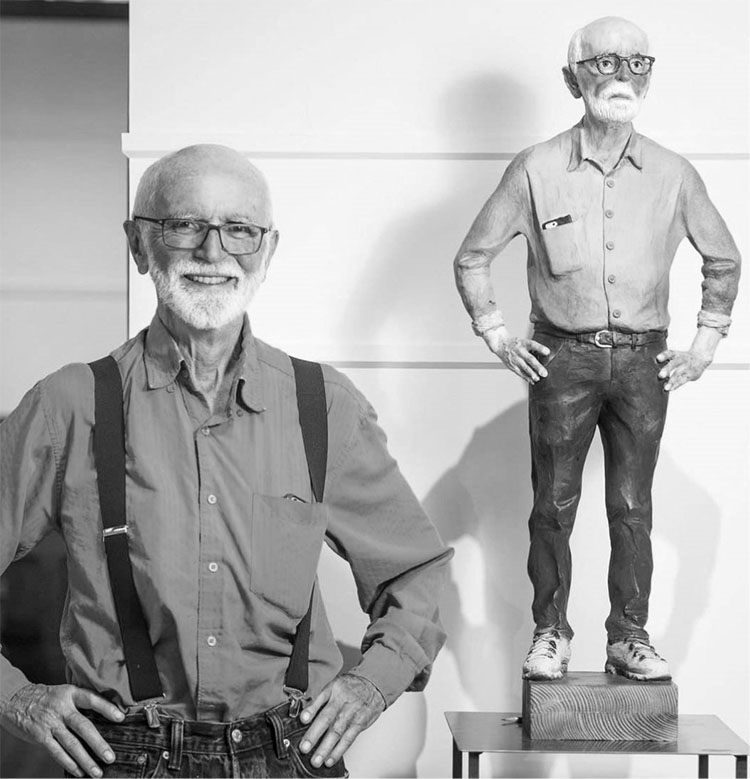 Joseph Hector Yvon (Joe) Fafard

1942 - 2019
OC RCA

Joe Fafardís international reputation as an insightful bronze and ceramic sculptor opened a window into the life of the people of his home province of Saskatchewan. The agricultural communities of Pense, where Fafard set up his foundry in 1985 and Lumsden, where he settled in 1987, have provided the inspiration for his work through their people, land and industry.

Born in Ste. Marthe, Fafard attained a BFA from the University of Manitoba in 1966 and an MFA from Pennsylvania State University in 1968, teaching that summer at the Emma Lake Artistsí Workshop. In the fall of that same year, he began to teach sculpture at the University of Saskatchewan, where he would remain until 1974, when, frustrated with constraints in the program, he left full-time teaching. Fafard had begun to make kinetic sculpture in the early 1970s, but switched to ceramics around 1972, having worked with American ceramic sculptor David Gilhooly, who was teaching in Regina in the early 1970s. Fafard began a series of small works he called cups Ė essentially portraits of people and their environments - and small format busts and full length portraits. His work was the subject of a 1973 NFB film I Donít Have to Work That Big, which brought him national attention. He was a guest lecturer at the University of California at Davis in 1980 and 1981. His work began to increase in size to larger portraits of people he knew, as well as famous artists, in both ceramic and painted bronze - which became his primary medium in 1985. Livestock are the subject of his work as often as people, and are treated in the same humanistic way. In the 1980s and 1990s he began incorporating their forms into functional furniture in bronze and steel. The subjects of his cutouts - large format two-dimensional free-standing metal works - include horses and cattle and cross the boundaries between printmaking and sculpture by using the flat patterned form in a three-dimensional manner. In these works, Fafardís skill as a metalsmith is unparalleled - fine, calligraphic and full of movement.

Fafard was named an Officer of the Order of Canada in 1981, and was given the Architectural Institute of Canada Allied Arts Award in 1987 and the Saskatchewan Order of Merit in 2002. He received the National Prix Montfort in 2003, the Lieutenant Governor's Saskatchewan Centennial Medal for the Arts in 2005 and the Saskatchewan Arts Board Lifetime Achievement Award in 2007. He was named Citizen of the Year by CTV in 2006, and holds two honorary degrees conferred by the University of Regina in 1989 and the University of Manitoba in 2007.

Fafard is represented in numerous public, private, and corporate collections in Canada and the United States and has been the subject of numerous solo exhibitions including those held at the Dunlop Art Gallery in 1970, the Alberta College of Art in 1972, the Glenbow Museum in 1974, the Vancouver Art Gallery in 1973 and the Edmonton Art Gallery in 1973. The Bronze Years was shown at the Montreal Museum of Fine Arts in 1996. In 2007, a major touring retrospective was organized by the MacKenzie Art Gallery in partnership with the National Gallery of Canada and supported by Heffel.